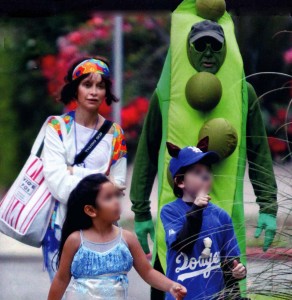 En CinePalomitas han hecho una recopilación de distintos disfraces o costumes de pelis y sus personajes.
Unos Top 10 que os pasamos a relatar a continuación:
HOMBRES
1. Joker (Heath Ledger) in El caballero oscuro
2. Batman (Christian Bale) in El caballero oscuro
3. Iron Man/Tony Stark (Robert Downey Jr.)
4. Kirk Lazarus interpretando a un hombre negro (Robert Downey Jr.) in Tropic Thunder
5. Indiana Jones (Harrison Ford) in Indy 4
6. Hellboy (Ron Perlman) in Hellboy II: The Golden Army
7. Harvey Dos caras (Aaron Eckhart) in El caballero oscuro
8. Jigsaw (Tobin Bell) in Saw V
9. Jack el simple (Ben Stiller) in Tropic Thunder
10. Saul the Dealer (James Franco) in Pineapple Express
MUJERES
1. La conejita de Una conejita en el campus (Anna Faris)
2. Fox (Angelina Jolie) in Wanted
3. Hannah Montana (Miley Cyrus)
4. Gabriella (Vanessa Hudgens) in High School Musical 3: Senior Year
5. Bella (Kristen Stewart) in Twilight
6. Donna (Meryl Streep) in Mamma Mia
7. Irina Spalko (Cate Blanchett) in Indy 4
8. Samantha Jones (Kim Cattrall) in Sex and the City
9. La duquesa (Keira Knightley)
10. Evolet (Camilla Belle) in 10,000 B.C.
PAREJAS Y GRUPOS
1. Las mujeres de Sexo en Nueva York
2. Joker y Batman in El caballero oscuro
3. Los chicos de Twilight
4. Los chicos y chicas de High School Musical 3: Senior Year
5. Iron Man/Tony Stark (Downey Jr.) & Pepper Potts (Gwyneth Paltrow) in Iron Man
6. Maxwell Smart Superagente 86 (Steve Carell) & El agente 99 (Anne Hathaway) de Superagente 86, la película
7. Wall-E y Eva in Wall-E
8. Chad (Brad Pitt) and Linda Litzke (Frances McDormand) de Quemar después de leer
9. Hermanos por pelotas (Will Ferrell & John C. Reillly)
10. Harold and Kumar (John Cho and Kal Penn) de Dos colgados muy fumados