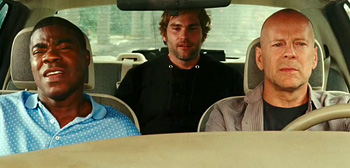 Warner Bros ha estrenado el trailer para la nueva peli dirigida por Kevin Smith: Cop Out, conocida antes como A Couple of Dicks, y lo ha hecho a través de Apple. Esta es una comedia protagonizada por Bruce Willis y Tracy Morgan interpretando a dos polis de New York City que tienen como misiones localizar una carta de beisbol robada, rescatar a una mujer, y enfrentarse a gangsters y dinero blanqueado.
[flashvideo filename=wp-content/uploads/2009/12/copout-tlr1_h480p.flv width=»598″ height=»268″ /]
Cop Out está dirigida por Kevin Smith, autor de clásicos como Clerks, Mallrats, Chasing Amy, Dogma, Jay and Silent Bob Strike Back, Jersey Girl, Clerks II, y Zack and Miri Make a Porno. El guión ha sido co-escrito por los hermanos Robb y Mark Cullen, autores de guiones para las series «Heist» y «Las Vegas». Warner Brothers estrenará esta peli el 26 de febrero de 2010, suponemos que para Marzo tendremos el estreno en España.
Via | First Showing
Tags