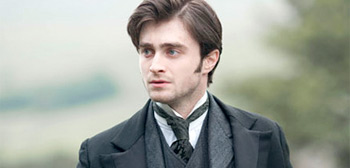 Hammer Films ha sacado el primer teaser trailer en la web IGN para la peli que cuenta una historia clásica de fantasmas llamada The Woman In Black, protagonizada por Daniel Radcliffe en uno de sus primeros papeles como protagonista principal desde Harry Potter. Simplemente es un trailer para mantener a la gente interesada hasta que el trailer largo vea la luz, o la peli, que sucederá en Octubre de 2011 en Reino Unido.
Aquí el trailer de la peli dirigida por James Watkins, The Woman In Black:
Un joven abogado (Daniel Radcliffe) viaja a una remota villa para organizar papeleo de los recientes fallecidos, y allí encuentra un trágico secreto y al fantasma de una mujer que busca venganza.
The Woman In Black está dirigida por el director británico James Watkins, director de Eden Lake. El guión ha sido cosa de Jane Goldman, de Stardust, Kick-Ass, The Debt, X-Men: First Class, y se ha adaptado del libro de Susan Hill. Momentum Pictures será la encargada de distribuirla por Reino Unido. Sin fecha para el resto de paises
Via | First Showing
Tags