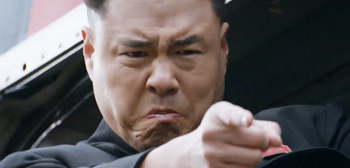 «¿Has dicho China?» Con poco más de un mes hasta que salga la nueva locura comédica de Seth Rogen y James Franco para cines en USA titulada The Interview (La Entrevista), ha salido el trailer final en el que vemos mucho al personaje Kim Jong-Un (Randall Park). La CIA pinta al lider de Corea del Norte como un auténtico manipulador, pero parece que el presentador de televisión Dave Skylark (Franco) tiene bastante en común con él, sobretodo su afición con Katy Perry. Divertido momento en un divertido trailer para todos los públicos.
Aquí teneis el trailer final de la peli de Seth Rogen & Evan Goldberg The Interview desde Sony Pictures:
The Interview (La Entrevista) tiene guión y está dirigida por Seth Rogen y Evan Goldberg (de This is the End, coguionistas de Superbad, The Green Hornet, Pineapple Express), con una historia desarrollada con la ayuda del guionista de «The Daily Show» Dan Sterling. En esta comedia, James Franco interpreta a un presentador de televisión guapo que tiene su propio programa: «Skylark Tonight», tanto él como su productor (Rogen) se ven involucrados en un complot de la CIA para matar al lider norcoreano tras haberles concedido una entrevista. Columbia Pictures estrena esta peli el 25 de Diciembre en USA, y fecha del 13 de Marzo de 2015 para España.
Via | FirstShowing
Tags