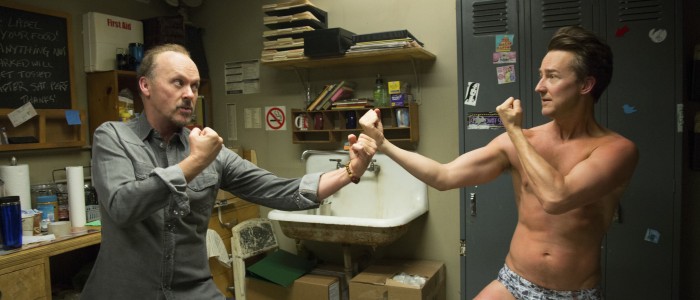 Si los premios proporcionados por la PGA (Sindicato de Productores de América) y la SAG (Sindicato de Actores de América) sirven de indicación, Birdman será la peli a la que habrá que batir este año en la categoría de Mejor Peli en los Oscars, pues se ha llevado el mejor premio en ambos certámenes.
Aunque fue una victoria muy ajustada. Aunque Birdman ganó el Mejor Reparto en los SAG (esto vendría a ser el equivalente a la Mejor Peli en los Oscar), ninguno de los tres actores por separado ganaron en sus respectivas categorías en las que habían sido nominadas. Por otro lado, dos de los ganadores de los PGA, la peli animada The Lego Movie y el documental Life Itself, no fueron nominadas en las categorías que tocan equivalentes a los Oscar.
En la parte de TV, Breaking Bad recogió un último trofeo en los PGA, Orange Is the New Black tuvo apreciaciones por ambos sindicatos, y True Detective no se volvió a llevar nada.
21st Annual Screen Actors Guild Awards (Premios Anuales n.21 del Sindicato de Actores)
Mejor interpretación de Actor de Reparto en Peli
Robert Duvall, The Judge
Ethan Hawke, Boyhood
Edward Norton, Birdman
Mark Ruffalo, Foxcatcher
J.K. Simmons, Whiplash
Mejor interpretación de Actriz de Reparto en Peli
Patricia Arquette, Boyhood
Keira Knightley, The Imitation Game
Emma Stone, Birdman
Meryl Streep, Into the Woods
Naomi Watts, St. Vincent
Mejor interpretación de Actor Principal en Peli
Steve Carell, Foxcatcher
Benedict Cumberbatch, The Imitation Game
Jake Gyllenhaal, Nightcrawler
Michael Keaton, Birdman
Eddie Redmayne, The Theory of Everything
Mejor interpretación de Actriz Principal en Peli
Jennifer Aniston, Cake
Felicity Jones, The Theory of Everything
Julianne Moore, Still Alice
Rosamund Pike, Gone Girl
Reese Witherspoon, Wild
Mejor Interpretación de todo el Reparto en Peli
Birdman
Boyhood
The Grand Budapest Hotel
The Imitation Game
The Theory of Everything
Mejor Interpretación de Actor en Peli para TV o Miniserie
Adrien Brody, Houdini
Benedict Cumberbatch, Sherlock: His Last Vow
Richard Jenkins, Olive Kitteridge
Mark Ruffalo, The Normal Heart
Billy Bob Thornton, Fargo
Mejor Interpretación de Actriz en Peli para TV o Miniserie
Ellen Burstyn, Flowers in the Attic
Maggie Gyllenhaal, The Honorable Woman
Frances McDormand, Olive Kitteridge
Julia Roberts, The Normal Heart
Cicely Tyson, The Trip to Bountiful
Mejor Interpretación de Actor en Serie Comédica
Ty Burrell, Modern Family
Louie C.K., Louie
William H. Macy, Shameless
Jim Parsons, The Big Bang Theory
Eric Stonestreet, Modern Family
Mejor Interpretación de Actriz en Serie Comédica
Uzo Aduba, Orange Is the New Black
Julie Bowen, Modern Family
Edie Falco, Nurse Jackie,
Julia Louis-Dreyfus, Veep
Amy Poehler, Parks & Recreation
Mejor Interpretación de Reparto en Serie Comédica
The Big Bang Theory
Brooklyn Nine-Nine
Modern Family
Orange Is the New Black
Veep
Mejor Interpretación de Actriz en Serie Dramática
Claire Danes, Homeland
Viola Davis, How to Get Away With Murder
Julianna Margulies, The Good Wife
Tatiana Maslany, Orphan Black
Maggie Smith, Downton Abbey
Robin Wright, House of Cards
Mejor Interpretación de Actor en Serie Dramática
Steve Buscemi, Boardwalk Empire
Peter Dinklage, Game of Thrones
Woody Harrelson, True Detective
Matthew McConaughey, True Detective
Kevin Spacey, House of Cards
Mejor Interpretación de Reparto en Serie Dramática
Boardwalk Empire
Downton Abbey
Game of Thrones
Homeland
House of Cards
Premio a toda una vida
26th Annual Producers Guild Awards (Premios Anuales n.26 del Sindicato de Productores)
Premio Darryl F. Zanuck a Mejor Productor para Pelis de Cine
American Sniper (Warner Bros. Pictures), Productores: Bradley Cooper, p.g.a., Clint Eastwood, p.g.a., Andrew Lazar, p.g.a., Robert Lorenz, p.g.a., Peter Morgan, p.g.a.
Birdman (Fox Searchlight Pictures), Productores: Alejandro G. Iñárritu, John Lesher, James W. Skotchdopole
Boyhood (IFC Films), Productores: Richard Linklater, p.g.a., Cathleen Sutherland, p.g.a.
Foxcatcher (Sony Pictures Classics), Productores: Megan Ellison, p.g.a., Jon Kilik, p.g.a., Bennett Miller, p.g.a.
Gone Girl (20th Century Fox), Productor: Ceán Chaffin, p.g.a.
The Grand Budapest Hotel (Fox Searchlight Pictures), Productores: Wes Anderson & Scott Rudin, Jeremy Dawson, Steven Rales
The Imitation Game (The Weinstein Company), Productores: Nora Grossman, p.g.a., Ido Ostrowsky, p.g.a., Teddy Schwarzman, p.g.a.
Nightcrawler (Open Road Films), Productores: Jennifer Fox, Tony Gilroy
The Theory of Everything (Focus Features), Productores: Tim Bevan & Eric Fellner, Lisa Bruce, Anthony McCarten
Whiplash (Sony Pictures Classics), Productores: Jason Blum, Helen Estabrook, David Lancaster
Mejor Productor para Peli Animada
Big Hero 6 (Walt Disney Animation Studios), Productor: Roy Conli, p.g.a.
The Book of Life (20th Century Fox), Productores: Brad Booker, p.g.a., Guillermo del Toro, p.g.a.
The Boxtrolls (Focus Features), Productores: David Bleiman Ichioka, p.g.a., Travis Knight, p.g.a.
How To Train Your Dragon 2 (20th Century Fox), Productor: Bonnie Arnold, p.g.a.
The LEGO Movie (Warner Bros. Pictures), Productor: Dan Lin
Mejor Productor de Documental
The Green Prince (Music Box Films), Productores: John Battsek, Simon Chinn, Nadav Schirman
Life Itself (Magnolia Pictures), Productores: Garrett Basch, Steve James, Zak Piper
Merchants of Doubt (Sony Pictures Classics), Productores: Robert Kenner, Melissa Robledo
Particle Fever (Abramorama/BOND 360), Productores: David E. Kaplan, Mark A. Levinson, Andrea Miller, Carla Solomon
Virunga (Netflix), Productores: Joanna Natasegara, Orlando von Einsiedel
Premio David L. Wolper a Mejor Productor para Serie de TV de Larga Duración
American Horror Story: Freak Show (FX), Productores: Brad Buecker, Dante Di Loreto, Brad Falchuk, Joseph Incaprera, Alexis Martin Woodall, Tim Minear, Ryan Murphy, Jennifer Salt, James Wong
Fargo (FX), Productores: Adam Bernstein, John Cameron, Ethan Coen, Joel Coen, Michael Frislev, Noah Hawley, Warren Littlefield, Chad Oakes, Kim Todd
The Normal Heart (HBO), Productores: Jason Blum, Dante Di Loreto, Scott Ferguson, Dede Gardner, Alexis Martin Woodall, Ryan Murphy, Brad Pitt, Mark Ruffalo
The Roosevelts: An Intimate History (PBS), Productores: To Be Determined
Sherlock (PBS), Productores: Mark Gatiss, Steven Moffat, Beryl Vertue, Sue Vertue
Premio Norman Felton al Mejor Productor de una Serie Dramática de TV
Breaking Bad (AMC), Productores: Melissa Bernstein, Sam Catlin, Bryan Cranston, Vince Gilligan, Peter Gould, Mark Johnson, Stewart Lyons, Michelle MacLaren, George Mastras, Diane Mercer, Thomas Schnauz, Moira Walley-Beckett
Downton Abbey (PBS), Productores: Julian Fellowes, Nigel Marchant, Gareth Neame, Liz Trubridge
Game Of Thrones (HBO), Productores: David Benioff, Bernadette Caulfield, Frank Doelger, Chris Newman, Greg Spence, Carolyn Strauss, D.B. Weiss
House Of Cards (Netflix), Productores: Dana Brunetti, Joshua Donen, David Fincher, David Manson, Iain Paterson, Eric Roth, Kevin Spacey, Beau Willimon
True Detective (HBO), Productores: Richard Brown, Carol Cuddy, Steve Golin, Woody Harrelson, Cary Joji Fukunaga, Matthew McConaughey, Nic Pizzolatto, Scott Stephens
Premio Danny Thomas al Mejor Productor de Serie Comédica para TV
The Big Bang Theory (CBS), Productores: Faye Oshima Belyeu, Chuck Lorre, Steve Molaro, Bill Prady
Louie (FX), Productores: Pamela Adlon, Dave Becky, M. Blair Breard, Louis C.K., Vernon Chatman, Adam Escott, Steven Wright
Modern Family (ABC), Productores: Paul Corrigan, Megan Ganz, Abraham Higginbotham, Ben Karlin, Elaine Ko, Steven Levitan, Christopher Lloyd, Jeff Morton, Dan O'Shannon, Jeffrey Richman, Chris Smirnoff, Brad Walsh, Bill Wrubel, Sally Young, Danny Zuker
Orange Is The New Black (Netflix), Productores: Mark A. Burley, Sara Hess, Jenji Kohan, Gary Lennon, Neri Tannenbaum, Michael Trim, Lisa I. Vinnecour
Veep (HBO), Productores: Chris Addison, Simon Blackwell, Christopher Godsick, Armando Iannucci, Stephanie Laing, Julia Louis-Dreyfus, Frank Rich, Tony Roche
Mejor Productor para TV de No Ficción
30 For 30 (ESPN), Productores: Andy Billman, John Dahl, Erin Leyden, Connor Schell, Bill Simmons
American Masters (PBS), Productores: Susan Lacy, Julie Sacks, Junko Tsunashima
Anthony Bourdain: Parts Unknown (CNN), Productores: Anthony Bourdain, Christopher Collins, Lydia Tenaglia, Sandra Zweig
COSMOS: A SpaceTime Odyssey (FOX/NatGeo), Productores: Brannon Braga, Mitchell Cannold, Jason Clark, Ann Druyan, Livia Hanich, Steve Holtzman, Seth MacFarlane
Shark Tank (ABC), Productores: Becky Blitz, Mark Burnett, Bill Gaudsmith, Phil Gurin, Yun Lingner, Clay Newbill, Jim Roush, Laura Roush, Max Swedlow
Mejor Productor para Concurso de TV de Competición
The Amazing Race (CBS), Productores: Jerry Bruckheimer, Elise Doganieri, Jonathan Littman, Bertram van Munster, Mark Vertullo
Dancing With The Stars (ABC), Productores: Ashley Edens Shaffer, Conrad Green, Joe Sungkur
Project Runway (Lifetime), Productores: Jane Cha Cutler, Desiree Gruber, Tim Gunn, Heidi Klum, Jonathan Murray, Sara Rea, Teri Weideman
Top Chef (Bravo), Productores: Doneen Arquines, Daniel Cutforth, Casey Kriley, Jane Lipsitz, Hillary Olsen, Erica Ross, Tara Siener, Shealan Spencer
The Voice (NBC), Productores: Stijn Bakkers, Mark Burnett, John De Mol, Chad Hines, Lee Metzger, Audrey Morrissey, Jim Roush, Kyra Thompson, Mike Yurchuk, Amanda Zucker
Mejor Productor para Programas de Entretenimiento en Vivo y Entrevistas
The Colbert Report (Comedy Central), Productores: Meredith Bennett, Tanya Michnevich Bracco, Stephen Colbert, Richard Dahm, Paul Dinello, Barry Julien, Matt Lappin, Emily Lazar, Tom Purcell, Jon Stewart
Jimmy Kimmel Live (ABC), Productores: David Craig, Ken Crosby, Doug DeLuca, Gary Greenberg, Erin Irwin, Jimmy Kimmel, Jill Leiderman, Molly McNearney, Tony Romero, Jason Schrift, Jennifer Sharron, Seth Weidner, Josh Weintraub
Last Week Tonight With John Oliver (HBO), Productores: Tim Carvell, John Oliver, Liz Stanton
Real Time With Bill Maher (HBO), Productores: Scott Carter, Sheila Griffiths, Marc Gurvitz, Dean Johnsen, Bill Maher, Billy Martin, Matt Wood
The Tonight Show Starring Jimmy Fallon (NBC), Productores: Rob Crabbe, Jamie Granet Bederman, Katie Hockmeyer, Jim Juvonen, Josh Lieb, Brian McDonald, Lorne Michaels, Gavin Purcell
Via | Slashfilm