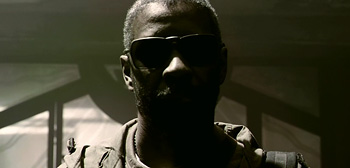 En la web de Apple han sacado el teaser trailer de la peli The Book of Eli protagonizado por Denzel Washington y  Gary Oldman. ¡Otra peli post-apocalíptica!
[flashvideo filename=wp-content/uploads/2009/07/The_Book_Of_Eli_TRL1A_640.flv width=»596″ height=»268″ /]
Lo podeis ver en gloriosa Alta Definición en Apple
The Book of Eli está dirigida por los hermanos Allen and Albert Hughes, que nos habían dado pelis como Dead Presidents, American Pimp, y From Hell, pero se habían parado en 2001. El guión corre a cargo del novato  Gary Whitta, el cual también tiene en su mano el proyecto de Akira en personas reales. Warner Brothers estrenará esto en 2010, siendo el 15 de enero la fecha para USA y el 25 de febrero para Alemania, sin fecha para España de momento. ¿Qué creeis vosotros de esta peli?
Via | First Showing
Tags