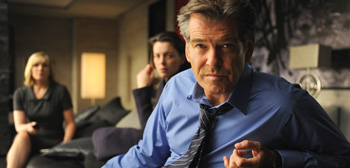 Parece que los amigos de la web francesa AlloCine.fr (via Twitch) se han hecho con el trailer del nuevo thriller del polémico (actualmente) Roman Polanski llamado The Ghost Writer cuyos protagonistas son Ewan McGregor, Pierce Brosnan, Timothy Hutton, Kim Cattrall y Olivia Williams. Y tiene muy buena pinta.
[flashvideo filename=wp-content/uploads/2010/01/ghost-writer-subtitled-trailer.flv width=»582″ height=»270″ /]
Para saber más sobre The Ghost Writer, podeis visitar la web oficial: theghost-romanpolanski.com.
The Ghost Writer está dirigida por el ganador de un Oscar polaco y francés Roman Polanski, autor de grandes pelis como When Angels Fall, Repulsion, Dance of the Vampires, Rosemary's Baby, Chinatown, Frantic, The Ninth Gate, The Pianist, y Oliver Twist. El guión ha sido escrito por el propio Polanski con el novelista Robert Harris. Esto es debido a que la peli está basada en la novela del propio Harris que lleva el mismo nombre. El estreno se preveé para este febrero en USA, aunque no hay fecha confirmada ni tampoco para España.
Via | First Showing

Tags