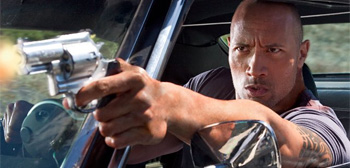 «Él es… más rápido!» CBS Films nos deleita con el trailer de esta peli sacada de la nada llamada Faster, un thriller de acción protagonizado por Dwayne Johnson y una preciosa mujer, además de incluir a Carla Gugino, Moon Bloodgood, Jennifer Carpenter y Maggie Grace. Además, tenemos a Billy Bob Thornton coprotagonizando. La banda sonora nos viene de parte de Clint Mansell.Volvemos a ver a The Rock en sus trece con papel de acción como toca, pero cargado de brutalidad y algo gore.
Os remitimos a un primer teaser de Faster, pero con este trailer no hace falta que lo veais.
Un ex convicto sale para vengar la muerte de su hermano porque les confundieron al ser él el objetivo.
Faster está dirigida por el director de Milwaukee, Wisconsin George Tillman Jr., de Paula, Soul Food, Men of Honor y relacionado con la peli biográfica Notorious. El guión es cosa de los hermanos Joe (Shout, Bulletproof, Sweet Jane) y Tony Gayton (The Salton Sea, Murder by Numbers).
Via | First Showing
Tags