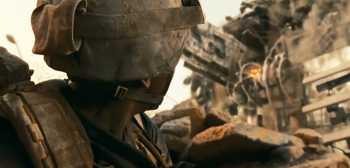 Antes de que existiera esta peli, si hacíais una búsqueda de Battle: Los Angeles el primer resultado era Battle of Los Angeles, un evento real que pasó en la ciudad de Los Angeles en 1942, donde los militares tuvieron que disparar a «algo» que se movia por la noche en el cielo. Saltando al 2011, ahora tenemos la peli Battle: Los Angeles – hmmm, ¿conexión misteriosa? Además del anuncio de la Super Bowl de este año, Sony ha sacado otro trailer de 63 segundos para la TV americana. Además, han sacado un video de información de lo de 1942.
El anuncio de TV de Battle: Los Angeles:
El metraje de Sony acerca de lo de 1942 llamado Battle of Los Angeles:
Unos jóvenes Marines, liderados por Aaron Eckhart, se enfrentan a una invasión alienígena en Los Angeles.
Battle: Los Angeles está dirigida por el director de nacimiento surafricano Jonathan Liebesman, director de Darkness Falls, The Texas Chainsaw Massacre: The Beginning y The Killing Room, pero con esta peli está dando el salto calitativo. El guión es obra de  Christopher Bertolini, al cual solo se le atribuyen los guiones de The General's Daughter y Madso's War. Sony / Columbia Pictures estrenan esta peli el 11 de Marzo de 2011 en USA. En España tendremos que esperar al 1 de Abril de 2011.
Via | First Showing