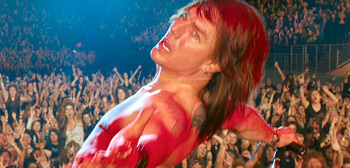 «Puedo garantizarte algo más molón… ¡la fama!» New Line ha sacado el primer trailer oficial via Apple de esta peli dirigida por Adam Shankman llamada Rock of Ages, un nuevo musical basado en el musical de rock de los 80. Lo que nos muestra glamour de rock de los 80 en todas las facetas de la peli. El reparto incluye a grandes nombres, como Alec Baldwin, Malin Akerman, Julianne Hough, Russell Brand, Paul Giamatti, Malin Akerman, Bryan Cranston y la propia Catherine Zeta-Jones. Además, en el papel del legendario Stacee Jaxx – Tom Cruise.
Aquí podeis ver el primer trailer oficial de la peli de Adam Shankman, llamada Rock of Ages, si quereis la fuente original en HD podeis ir a Apple:
Esta peli cuenta la historia de una chica de pueblo llamada Sherrie, y un chico de ciudad llamado Drew, que se encuentran en el Sunset Strip mientras ambos persiguen sus sueños de Hollywood. Su romance con fondo de rock 'n' roll se cuenta con éxitos cantados de Def Leppard, Joan Jett, Journey, Foreigner, Bon Jovi, REO Speedwagon, Twisted Sister, Poison, Whitesnake y muchos más.
Rock of Ages está dirigida por Adam Shankman, director de The Wedding Planner, Bringing Down the House, The Pacifier, Hairspray y Bedtime Stories. El guión viene de la mano de Justin Theroux (Tropic Thunder, Iron Man 2), Chris D'Arienzo (Barry Munday) y Allan Loeb (Things We Lost in the Fire, 21, The Switch, The Dilemma), y está basada en el musical creado por Chris D'Arienzo que llegó a Broadway en 2009. New Line Cinema/Warner Bros nos estrenan esto el 8 de Junio de 2012 en España.
Via | First Showing
Tags