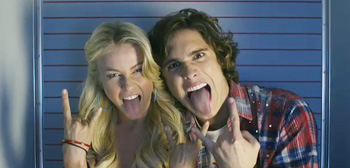 Para el final del año pasado pudimos ver algo de la peli musical que protagonizará Tom Cruise interpretando a la estrella del rock de los 80 Stacee Jaxx, que es una adaptación del musical de Broadway y se llamará Rock of Ages. Ahora tenemos otro trailer largo donde podemos ver a Cruise junto al resto del reparto formado por Julianne Hough, Catherine Zeta-Jones, Alec Baldwin, Russell Brand y muchos más. Interesante.
Aquí podeis ver el nuevo trailer de la peli dirigida por Adam Shankman, el musical llamado Rock of Ages via Apple:
También os podeis bajar el trailer de Rock of Ages en Alta Definición en Apple
Esta peli cuenta la historia de una chica de pueblo llamada Sherrie, y del chico de ciudad Drew, los cuales se conocen en Sunset Strip mientras ambos intentan conseguir sus sueños en Hollywood. Su romance en plan rock 'n' roll se cuenta a través de todos los éxitos del momento representado, incluyendo temas de Def Leppard, Joan Jett, Journey, Foreigner, Bon Jovi, REO Speedwagon, Twisted Sister, Poison, Whitesnake y más.
Rock of Ages está dirigida por Adam Shankman, director de The Wedding Planner, Bringing Down the House, The Pacifier, Hairspray y Bedtime Stories. El guión es cosa de Justin Theroux (Tropic Thunder, Iron Man 2), Chris D'Arienzo (Barry Munday) y Allan Loeb (Things We Lost in the Fire, 21, The Switch, The Dilemma) y está basado en el musical de Chris D'Arienzo que se estrenó en Broadway en 2009. New Line Cinema/Warner Bros nos traen Rock of Ages a los cines este verano de 2012.
Via | First Showing
Tags