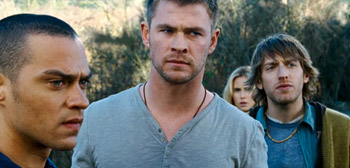 "Los corderos han llegado al matadero." Lionsgate ha sacado un nuevo trailer de 60 segundos via FEARnet para una peli esperada por ciertos fans, de tipo terror y comedia con algo de extravagante, The Cabin in the Woods, coguionizada y producida por el mismísimo Joss Whedon, con Drew Goddard como director y coguionista. El reparto incluye a Chris Hemsworth, con mucho maquillaje pareciendo mas jovenzuelo, Jesse Williams, Kristen Connolly, Anna Hutchison y Fran Kranz, con Bradley Whitford y Richard Jenkins
Aquí podeis ver el segundo trailer de la peli dirigida por Drew Goddard, llamada The Cabin in the Woods, via FEARnet:
Un grupo de cinco amigos se encuentran en una tranquila casa de madera en medio del campo. Pero lo que parece ser algo tranquilo, es en realidad otra cosa terrorífica muy distinta.
The Cabin in the Woods es el debut dictatorial del protegido de Whedon Drew Goddard, guionista de Cloverfield y Robopocalypse, además de guionista de "Buffy the Vampire Slayer", "Alias" y "Lost" para J.J. Abrams. El guión original para esta peli ha sido co-escrito por Joss Whedon ("Buffy", "Angel", "Firefly", Serenity, The Avengers) & Drew Goddard. Esta peli se rodó en 2009, pero es ahora, tras una marea de posibles distribuidores, cuando Lionsgate la va a estrenar. Cabin in the Woods saldrá a los cines a partir del 12/13 de Abril de 2012.
Via | First Showing
Tags