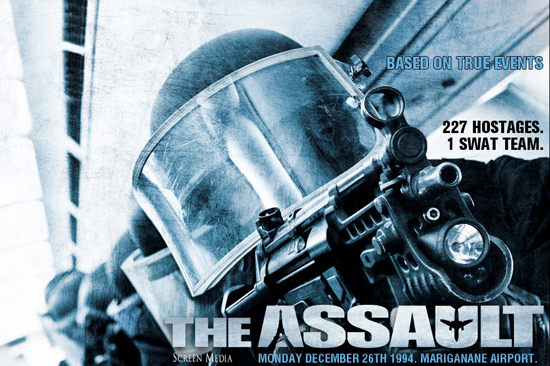 En Navidades de 1994, un grupo de 4 terroristas secuestraron un vuelo en París, tomando los 227 pasajeros como rehenes. Se formó una unidad de élite antiterrorista de Francia para combatir la situación y liberar a los rehenes, y eso pasó durante 2 días. Fruto de ese acontecimiento, podemos ver esta peli rodada en 2010 que relata dichos dos días. La peli se llama The Assault (El Asalto).
Julien Leclercq (Chrysalis) es el director de esta cinta de acción. Y un trailer ha aparecido (para la versión de USA).
Hay muchas comparaciones con United 93 de Paul Greengrass, ambas por usar cámaras sin 'steadycam' o por contar la historia a lo largo de eventos colindantes y no dentro del propio avión.
The Assault llega a los cines de USA el 6 de Abril en USA. Se estrenó en 2011 en Europa, pero sin rastro de ella en España. Apple tiene el trailer en Alta Definición.
Como un thriller de acción, "The Assault" es la trepidante historia real del secuestro de un vuelo de París en las Navidades de 1994, y las 48 horas que pasaron para rescatar a los pasajeros.
Via | Slashfilm