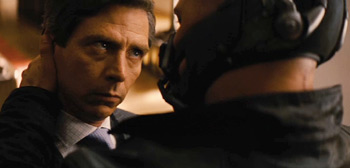 «Tu castigo debe ser más severo.» Está llegando, el final de la trilogía más fantástica de Batman. Warner Bros nos ha sacado el tercer y final trailer de la tercera entrega de la trilogía dirigida por Christopher Nolan, The Dark Knight Rises. Por suerte no enseña demasiado más allá de la trama inicial y de las relaciones entre personajes. Y tiene una pinta fenomenal. Christian Bale vuelve como Batman, con Tom Hardy interpretando a Bane, Anne Hathaway es Catwoman, además de Joseph Gordon-Levitt, Marion Cotillard, Juno Temple, Gary Oldman y Michael Caine.
Aquí podeis ver el tercer trailer final de la peli de Chris Nolan The Dark Knight Rises, en HD via TDKR07202012:
Ocho años después de los sucesos en El Caballero Oscuro, el lider terrorista Bane llega a la ciudad de Gotham City, saqueándola y empujando a la policía a sus límites, forzando a que su héroe local (Batman) vuelva a surgir tras verse a sí mismo como el malo tras los sucesos con Harvey Dent.
The Dark Knight Rises está dirigida una vez más por el nominado al Oscar Christopher Nolan, director de Following, Memento, Insomnia, Batman Begins, The Prestige, The Dark Knight e Inception. El guión ha sido obra del propio Christopher con Jonathan Nolan (The Prestige, The Dark Knight), usando una historia de Chris Nolan & David S. Goyer (de Batman Begins, The Dark Knight). Warner Bros nos trae esta peli en imagen normal e IMAX en todo el mundo a partir del 20 de Julio de 2012. La Leyenda Termina…
Via | First Showing
Tags