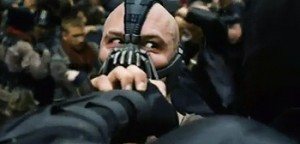 En la pasada noche, en los MTV Movie Awards los ganadores fueron The Twilight Saga: Breaking Dawn – Part I con el premio a la Mejor Peli, y The Hunger Games (Los Juegos del Hambre) también se llevó bastantes premios. Por otro lado, la estrella fue el minuto y medio de nuevo metraje mostrado de The Dark Knight Rises presentado por el mismísimo Christopher Nolan, Christian Bale (al cual se le tocó la fibra al ver algunos clips de Heath Ledger como el Joker en The Dark Knight), Gary Oldman y Joseph Gordon-Levitt. Bastante buen y nuevo metraje con Batman, Bane y Catwoman.
Además, Collider ha mencionado que los cines AMC Theatres han hecho público el tiempo que durará la peli con unas impresionantes 2 horas y 45 minutos. Estaría bien que hicieran una maratón, proyectando Batman Begins y The Dark Knight antes de The Dark Knight Rises el 19 de Julio de 2012. Tampoco se sabe si esto es solo un rumor o si solo se hará en USA como ya sucedió con la maratón de Los Vengadores.
Aquí teneis lo que emitió la MTV via ComingSoon:
Aquí teneis otro anuncio para TV, con algo más de metraje:
Eight years after The Dark Knight, the terrorist leader Bane arrives in Gotham City, pushing it and its police force to the limits, forcing its former hero Batman to resurface after taking the fall for Harvey Dent.
Via | First Showing.
Tags