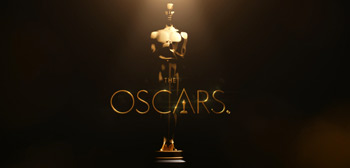 La ceremonia del 2014 de los Oscars, apodada 86th Academy Awards en USA, han sido esta pasada noche. Y prueba de ello es que os traemos la lista de nominados y ganadores de los de Hollywood. Directamente desde el Dolby Theatre y siendo presentada por la fabulosa Ellen DeGeneres. En resumen, la contienda se basa entre la peli de Alfonso Cuaron Gravity y la de Steve McQueen 12 Years a Slave, con la de Scorsese The Wolf of Wall Street, pasando por la de Spike Jonze Her o la de David O. Russell American Hustle, sin olvidar la de Paul Greengrass Captain Phillips.

A modo de resumen corto:
Gravity se lleva todos los premios técnicos y el de mejor director
12 años gana tres premios: película, actriz secundaria y guion adaptado
El español Esteban Crespo se quedó sin el Oscar de corto de ficción
McConaughey y Blanchett, ganadores sin sorpresas
La gran belleza, de Paolo Sorrentino, mejor película de habla no inglesa
Contador de Nominaciones Totales:

American Hustle
10
Gravity
10
12 Years a Slave
9
Captain Phillips
6
Dallas Buyers' Club
6
Nebraska
6
Her
5
The Wolf of Wall Street
5
Contador de Estatuillas Conseguidas:

Gravity
7
12 Years a Slave
3
Dallas Buyers' Club
3
The Great Gatsby
2
Frozen
2
Her
1
American Hustle
0
Captain Phillips
0
Nebraska
0
The Wolf of Wall Street
0
Nominaciones, y los ganadores en rojo.
MEJOR PELI:
12 Years a Slave
American Hustle
Captain Phillips
Dallas Buyers Club
Gravity
Nebraska
Her
The Wolf of Wall Street
Philomena
MEJOR DIRECTOR:
Steve McQueen, 12 Years a Slave
Alfonso Cuaron, Gravity
David O. Russell, American Hustle
Alexander Payne, Nebraska
Martin Scorsese, The Wolf of Wall Street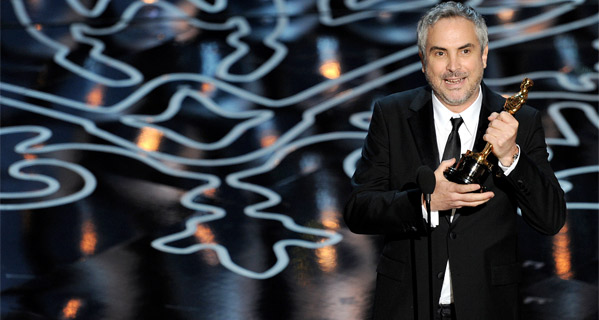 MEJOR ACTOR:
Matthew McConaughey (Dallas Buyers Club)
Chiwetel Ejiofor (12 Years a Slave)
Bruce Dern (Nebraska)
Leonardo DiCaprio (The Wolf of Wall Street)
Christian Bale (American Hustle)
MEJOR ACTRIZ:
Cate Blanchett (Blue Jasmine)
Sandra Bullock (Gravity)
Amy Adams (American Hustle)
Judi Dench (Philomena)
Meryl Streep (August: Osage County)
MEJOR ACTOR DE REPARTO:
Michael Fassbender (12 Years a Slave)
Barkhad Abdi (Captain Phillips)
Jonah Hill (The Wolf of Wall Street)
Bradley Cooper (American Hustle)
Jared Leto (Dallas Buyers Club)
MEJOR ACTRIZ DE REPARTO:
Lupita Nyong'o (12 Years a Slave)
Jennifer Lawrence (American Hustle)
Sally Hawkins (Blue Jasmine)
June Squibb (Nebraska)
Julia Roberts (August: Osage County)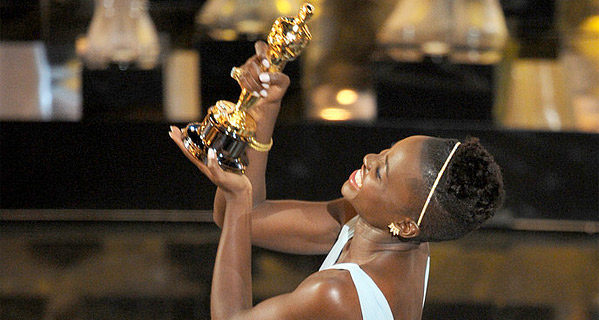 MEJOR GUIÓN ORIGINAL:
American Hustle
Her
Dallas Buyers' Club
Nebraska
Blue Jasmine

MEJOR GUIÓN ADAPTADO:
Before Midnight
Philomena
Captain Phillips
12 Years a Slave
The Wolf of Wall Street

MEJOR PELI DE HABLA NO INGLESA:
The Broken Circle Breakdown (Belgium)
The Great Beauty (Italy)
The Hunt (Denmark)
The Missing Picture (France)
Omar (Palestine)
MEJOR PELI DE ANIMACIÓN:
Frozen
The Wind Rises
The Croods
Ernest & Celestine
Despicable Me 2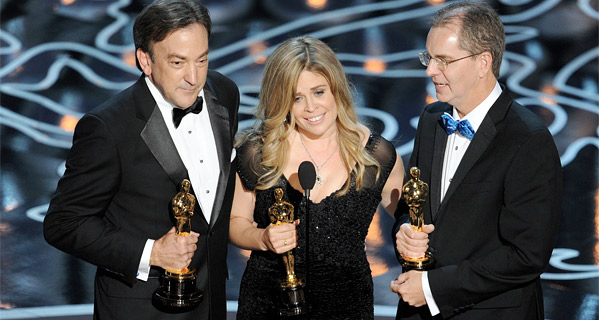 MEJOR DISEÑO DE PRODUCCIÓN:
American Hustle
Gravity
The Great Gatsby
Her
12 Years a Slave

MEJOR CINEMATOGRAFÍA:
The Grandmaster
Gravity
Nebraska
Inside Llewyn Davis
Prisoners

MEJOR DISEÑO DE VESTUARIO:
American Hustle
The Grandmaster
The Great Gatsby
The Invisible Woman
12 Years a Slave

MEJOR DOCUMENTAL:
The Act of Killing
Cutie y the Boxer
Dirty Wars
The Square
20 Feet de Stardom
MEJOR DOCUMENTAL CORTO:
Cave Digger
Facing Fear
Karama Has No Walls
The Lady in number 6: Music Saved My Life
Prison Terminal: The Last Days of Private Jack Hall

MEJOR EDICIÓN:
American Hustle
Captain Phillips
Dallas Buyers Club
Gravity
12 Years a Slave

MEJOR MAQUILLAJE Y PELUQUERÍA:
Dallas Buyers' Club
Jackass Presents: Bad Grandpa
The Lone Ranger

MEJOR BANDA SONORA:
The Book Thief (John Williams)
Gravity (Steven Price)
Her (William Butler y Owen Pallett)
Philomena (Alexandre Desplat)
Saving Mr. Banks (Thomas Newman)
MEJOR CANCIÓN ORIGINAL:
"Alone Yet Not Alone" de Alone Yet Not Alone
Music by Bruce Broughton; Letra de Dennis Spiegel
"Happy" de Despicable Me 2
Music y Letra de Pharrell Williams
"Let it Go" de Frozen
Music y Letra de Kristen Anderson-Lopez y Robert Lopez
"The Moon Song" de Her
Music by Karen O; Letra de Karen O y Spike Jonze
"Ordinary Love" de Mandela: Long Walk to Freedom
Music by Paul Hewson, Dave Evans, Adam Clayton y Larry Mullen; Letra de Paul Hewson
;»>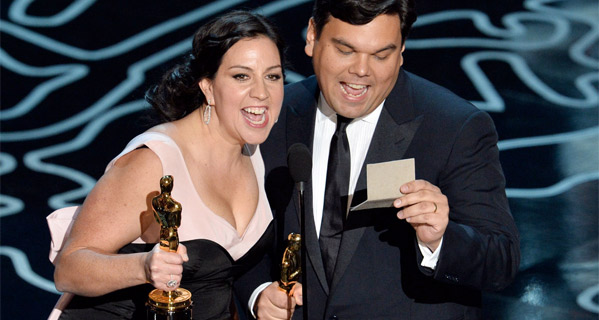 MEJOR EDICIÓN DE SONIDO:
All is Lost
Captain Phillips
Gravity
The Hobbit: The Desolation of Smaug
Lone Survivor
MEJOR MEZCLA DE SONIDO:
Captain Phillips
Gravity
The Hobbit: The Desolation of Smaug
Lone Survivor
Inside Llewyn Davis
MEJORES EFECTOS VISUALES:
Gravity
The Hobbit: The Desolation of Smaug
Iron Man 3
The Lone Ranger
Star Trek: Into Darkness
MEJOR CORTO ANIMADO:
Feral
Get a Horse!
Mr. Hublot
Possessions
Room on the Broom
MEJOR CORTO DE ACCIÓN REAL:
Aquel No Era Yo (That Wasn't Me)
Avant Que De Tout Perdre (Just Before Losing Everything)
Helium
Pitääkö Mun Kaikki Hoitaa? (Do I Have to Take Care of Everything?)
The Voorman Problem

Impresiones finales:
La aventura espacial de Cuarón, que ha hecho historia al convertise en el primer director latino en lograr el Oscar, se ha llevado siete de los diez galardones para los que estaba nominada; mientras que la cinta sobre la esclavitud de Steve McQueen se ha llevado tres de los nueve premios para los que estaba nominada –película, guion adaptado y actriz secundaria-.
Las grandes derrotadas en la noche del cine en Hollywood han sido La gran estafa americana (cero premios de diez nominaciones), Capitán Phillips y Nebraska (cero de seis) y El lobo de Wall Street (cero de cinco).
12 años de esclavitud también le ha dado el primer premio de la Academia de Hollywood a Brad Pitt, productor del largometraje, quien ya había sido nominado anteriormente en cuatro ocasiones, tres de ellas como actor y otra como productor. "Gracias por este honor increíble, sé que hablo por todos cuando digo que ha sido un privilegio trabajar por esa historia", ha dicho el actor, acompañado en la ceremonia por su esposa, Angelina Jolie, ganadora del Oscar honorífico por su labor humanitaria.
Tags