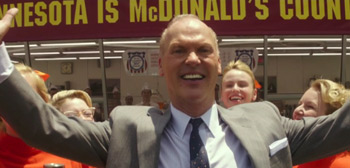 «Tendría que haber McDonald por todos lados. Franquicia el invento» The Weinstein Company ha sacado el primer trailer de la peli The Founder (El Fundador), del director John Lee Hancock, protagonizada por Michael Keaton interpretando al fundador de McDonalds, Ray Kroc. La historia es en realidad como Kroc llegó a 'robar' los derechos de la franquicia de los hermanos McDonald, interpretados por Nick Offerman y John Carroll Lynch, los cuales fueron los que idearon el concepto de comida rápida en los años 50. En el reparto se incluyen Laura Dern, Linda Cardellini, Patrick Wilson and B.J. Novak. Aunque la interpretación de Keaton no es de lo mejor, parece que todo el compendio de la peli se dejará ver.
Aquí teneis el trailer de The Founder, desde el USA Today (via The Playlist) subtitulado:
Con guión de Robert Siege, The Founder es un drama que cuenta la historia de cómo Ray Kroc (Michael Keaton), un comercial de Illinois, conoció a Mac y Dick McDonald, los cuales tenían una hamburguesería en los 50 en California del Sur. Kroc estuvo impresionado por el sistema tan rápido de los hermanos para hacer comida, y vió el potencial de una franquicia. Una vez dentro del negocio, se posicionó para poder sacar a los hermanos del negocio y construir el imperio multi millonario. The Founder está dirigida por John Lee Hancock, de The Rookie, The Alamo, The Blind Side y Saving Mr. Banks. The Weinstein Company nos estrenan The Founder a partir del 5 de Agosto de 2016.
Tags