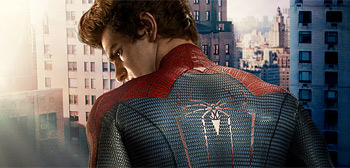 «Si quieres saber la verdad Peter, ve y consíguela.» Gran día para Sipderman, pues Sony ha vuelto a sacar otro trailer oficial via YouTube para el reboot dirigido por Marc Webb The Amazing Spider-Man, y es mucho más excitante, épico e increible que lo que uno pudiera imaginarse. Andrew Garfield interpreta a Peter Parker, junto a Emma Stone, Martin Sheen, Sally Field y Rhys Ifans que interpreta al Lagarto.
Podeis ver el segundo trailer oficial de la peli de Marc Webb The Amazing Spider-Man, en HD via YouTube:
Peter Parker (Andrew Garfield) encuentra una pista que puede ayudar a entender porque sus padres desaparecieron cuando él era crío. Su camino en busca de esa verdad le hará toparse con el doctor Connors, el ayudante de su padre.
Esta adaptación de Sony, The Amazing Spider-Man, nos trae a Garfield como Peter Parker, Emma Stone es Gwen, Martin Sheen interpreta al tío Ben, Sally Field es la tía May y Denis Leary es George Stacy. El director de 500 Days of Summer Marc Webb ha sido el encargado de recrear este Spider-Man, con un guión escrito por Alvin Sargent (guionista de los Spider-Man 2 & 3 de Sam Raimi), por Steve Kloves (Harry Potter) y por James Vanderbilt (The Rundown, Zodiac, The Losers). Sony/Columbia nos estrena The Amazing Spider-Man en 3D a partir del 3 de Julio de 2012.
Via | First Showing
Tags