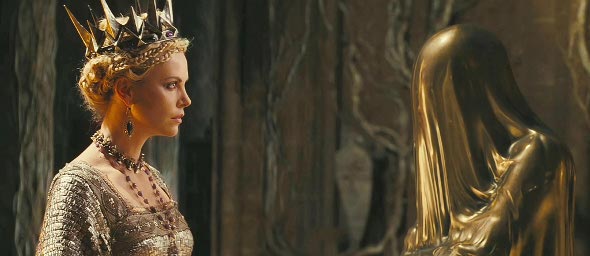 "Dejemos que vengan…" Universal sacó hace unos días el segundo trailer largo oficial para la adaptación a la gran pantalla dirigida por Rupert Sanders de la peli Snow White and the Huntsman, en alta definición en Xfinity, y encontrado via twitter. El trailer se estrenó en la WonderCon del pasado fin de semana, además podeis ver "un primer vistazo largo" aquí. Esta es una adaptación con tonos épicos, oscuros y un estilo a lo Señor de Los Anillos de Blancanieves, con Kristen Stewart como Snow White (Blancanieves), Chris Hemsworth como el "Huntsman" (el cazador), y Charlize Theron como la Reina Malvada. Todo el mundo parece excitado con los efectos visuales tras el primer teaser trailer, y en esta versión también aparecen… pero yo no los considero tan buenos.
Aquí podeis ver el segundo trailer largo de la peli dirigida por Rupert Sanders llamada Snow White and the Huntsman, via Xfinity:
Encima Universal ha sacado un video corto de 5 minutos para ver más metraje.
En esta nueva adaptación épica de acción y aventura del cuento de Blancanieves, Kristen Stewart interpreta a la única persona en el territorio que es capaz de destruir a la Reina Malvada Ravenna (Theron). Pero lo que no se puede imaginar la malvada tirana, es que la joven mujer que amenaza su reinado ha sido entrenada en las artes de la guerra con un cazador (Hemsworth) que fue contratado para matarla. Los actores Eddie Izzard, Ray Winstone, Bob Hoskins, Toby Jones, Stephen Graham, Eddie Marsan e Ian McShane interpretan a los enanos. Esta peli está dirigida por Rupert Sanders, un aclamado director de anuncios que hace su debut en largometrajes. La fecha de estreno es para el 21 de Junio de 2012.
Via | First Showing
Tags