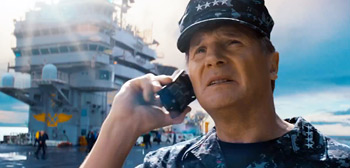 "Si esas naves pueden hacer esto, ¿qué pueden hacer 50, o 500,000?" Aunque en realidad esta peli sea una adaptación del juego 'Hundir La Flota' donde se jugaban 5 barcos contra 5, en este trailer ya podemos ver (si es que los anteriores no os lo han demostrado) que poco tiene que ver con el juego, excepto el nombre parecido. Universal ha sacado un tercer trailer de la peli dirigida por Peter Berg Battleship, protagonizada por Taylor Kitsch, Liam Neeson, Alexander Skarsgård y Rhianna, y este trailer se centra más en los aliens de la peli.
Podeis ver el tercer trailer de la peli dirigida por Peter Berg llamada Battleship, pillado desde YouTube via Deadline:
Una flota de barcos se ve forzada a entablar combate con una armada avanzada de orígen desconocido.
Battleship está dirigida por el director americano Peter Berg, director de Very Bad Things, The Rundown, Friday Night Lights, The Kingdom y Hancock. El guión ha sido obra de los hermanos Erich Hoeber & Jon Hoeber, guionistas de Whiteout, RED y Man on a Ledge. Universal ha producido esta peli con 200 millones de dólares (que se dice rápido). Battleship se estrena a partir del 18 de Mayo de 2012 en USA, para el 13 de Abril en España.
Via | First Showing
Tags