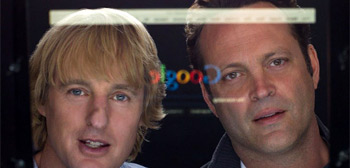 «¿Nos has encontrado un trabajo en Google?» Como parte de seguir promocionando Google+ (qué coincidencia), 20th Century Fox nos saca el primer trailer para una comedia de verano llamada The Internship, protagonizada por la pareja de siempre formada por Vince Vaughn y Owen Wilson como dos viejos empresarios que deciden meterse a intentar trabajar en… Google. Sí, la peli tiene lugar en la propia Google de California junto a otros comediantes de la tele que interpretan a sus responsables, incluyendo a Aasif Mandvi, Josh Gad, B.J. Novak y Max Minghella.
Aquí teneis el primer trailer de la peli dirigida por Shawn Levy titulada The Internship, directamente desde Google+ on YouTube:
Vince Vaughn & Owen Wilson dos vendededores de relojes quienes, al verse de pronto sin empleo, deciden pasar al mundo digital reinventándose en la mejor compañía de tecnología.
The Internship está dirigida por el director de comedias y cosas familiares Shawn Levy, de Cheaper by the Dozen, The Pink Panther, Date Night, las dos pelis de Night at the Museum, y la fuera de serie Real Steel. El guión ha sido cosa del propio actor Vince Vaughn y Jared Stern (guionista de Mr. Popper's Penguins y The Watch). 20th Century Fox nos estrena esto mundialmente el 7 de Junio de 2013.
Tags