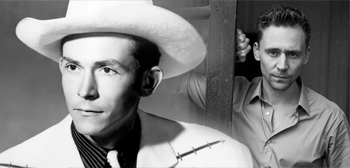 Durante este verano, hemos sabido que el protagonista villano de las pelis de Marvel Thor y Los Vengadores Tom Hiddleston se meterá de lleno en otro territorio al interpretar a la leyenda americana del country Hank Williams en una peli biográfica titulada I Saw the Light (Yo Ví la Luz). Algunos fans del legendario músico y cantante han estado escépticos en cuánto a la elección de Hiddleston para el papel, así que el propio Tom decidió probar a ver cómo se le daba lo de cantar como Hank Williams y lo hizo delante de una audiencia considerable en el Wheatland Music Festival de Remus, Michigan. Por suerte, alguien fue capaz de grabar algo de video de alguna de sus actuaciones (sí, Hiddleston hizo varias a lo largo de ese finde) y estamos bastante impresionados.
Aquí tenemos a Tom Hiddleston cantando «Move It On Over» en el Wheatland Music Festival:
Another Wheatland Music Fest pic for you @twhiddleston fans. He sang "I'm So Lonesome I Could Cry" w/@RodneyJCrowell: pic.twitter.com/GsGYaITX2f
— Elisabeth Waldon (@elisabethwaldon) September 7, 2014
No podemos decir que Hiddleston suene igualito que Williams, pero Joaquin Phoenix tampoco sonaba exactamente igual que Johnny Cash en 'Walk the Line'. La fotografía de debajo del video viene de la segunda actuación de Hiddleston cuando cantó "I'm So Lonesome I Could Cry,» pero nadie grabó video de eso. Estas mencionadas dos canciones y muchas más se esperan que sean cantadas por Hiddleston en la peli producida por Brett Ratner y dirigida por el director de Flash of Genius Marc Abraham, sobre un script del propio Abraham basado en la biografía de Williams de Colin Escott. Por si fuera poco, la producción empieza el mes que viene en Louisiana. Sounding good?
Tags