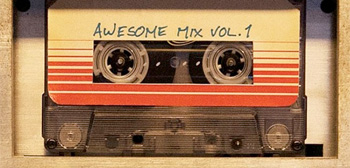 Mientras se van acercando los Oscars (quedan poco más de dos meses), y aunque estos tengan su apartado musical con premio a la Mejor Banda Sonora y premio a la Mejor Canción Original, los premios musicales por excelencia son los Grammys, y esta vez también parece que premiarán a alguna peli por su música. En el pasado fin de semana, los aspirantes a los premios del 2015 se anunciaron, y todos tienen muchas posibilidades de ganar. Como el tema del filtrado (en el cual se presenta una lista que pasa por varios cortes hasta llegar a tener 4 o 5 finalistas) de los Grammy es distinto al de los Oscars, eso implica que podais ver pelis del 2013 y 2014 incluídas en este listado. Sin sorpresas al ver a Frozen con 3 nominaciones, pero Perdida, Guardianes de la Galaxia y más están nominadas también.
Mejor Compilación Sonora para un Medio Visual
American Hustle
Get On Up: The James Brown Story
Frozen
Guardians of the Galaxy: Awesome Mix Vol. 1
The Wolf of Wall Street
Mejor Banda Sonora para Medio Visual
Frozen
Gone Girl
The Grand Budapest Hotel
Gravity
Saving Mr. Banks
Mejor Canción Original para Medio Visual
«Everything is Awesome!!!» – The LEGO Movie
«I See Fire» – The Hobbit: The Desolation of Smaug
«I'm Not Gonna Miss You» – Glen Campbell, I'll Be Me
«Let It Go» – Frozen
«The Moon Song» – Her
Es fantástico que la canción «Everything is Awesome!!!» (Todo Es Fabuloso, en español) tenga una nominación a los Grammy, esperemos que esa canción de The LEGO Movie tenga también una nominación a los Oscars esta vez. Puede que no tenga la composición de «Let It Go» de Frozen, pero es más pegadiza. Interesante ver que Gone Girl (Perdida) y The Grand Budapest Hotel han conseguido pasar el corte siendo del 2014, juntándose con tres pelis del 2013. Tampoco hay duda que el Awesome Mix Vol. 1 es uno de los mejores recopilatorios para una peli. Si te gustan los Grammy, la ceremonia será el 8 de Febrero de 2015 en la CBS.
Via | First Showing
Tags
awesome, Ben-Affleck, benicio del toro, Bradley cooper, Chris Pratt, Dave Bautista, David Fincher, Djimon Hounsou, Emily Ratajkowski, Glenn Close, guardianes de la galaxia, James Gunn, John C. Reilly, Karen Gillan, lee pace, Michael Rooker, Missi Pyle, neil patrick harris, oscars 2015, Rosamund Pike, Scoot McNairy, Tyler Perry, vin diesel, Zoe Saldana