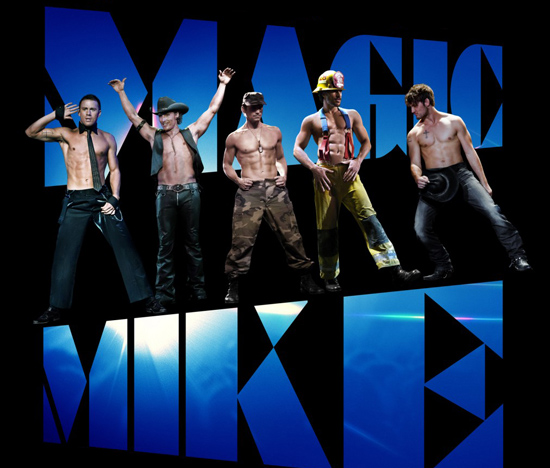 Llegados a este punto, no creo que a las lectoras que podamos tener haya que presentarles de nuevo la nueva peli de Steven Soderbergh, llamada Magic Mike. Para aquellos y aquellas que no hayan leído antes de ella, la peli está pasada en la propia experiencia personal del protagonista Channing Tatum en su etapa de adolescente cuando se metió a ser bailarín exótico/erótico; y, aparte de Tatum, están Alex Pettyfer, Matthew McConaughey, y un par más de chicos bailarines en el club llamado Florida club.
Aunque en pasados trailers hemos visto como los chicos se desnudan de torso, en este los chicos se quitan las cosas de cintura para abajo.
Aquí teneis el trailer de banda roja (por el contenido) de la peli dirigida por Steven Soderbergh llamada Magic Mike, via Digital Spy:
Actualización: Aquí tenemos un segundo trailer rojo, también via Digital Spy:
So, yeah, not much there for anyone who wants more than guys taking off their pants, but if you do want that, this might be the best clip of the week. And judging by the amount of talk we hear about the film, its obvious that a lot of people want exactly that, and this clip does a good job demonstrating that the movie isn't just a tease.
Magic Mike también tiene en su reparto a Cody Horn, Joe Manganiello y Matt Bomer. Se estrena en USA a partir del 29 de Junio de 2012.
Una comedia dramática situada en el mundo de los strippers masculinos. La historia está inspirada en las propias experiencias de Channing Tatum, la cual sigue a Mike (Tatum) y cómo se encarga de un novato stripper llamado The Kid (Alex Pettyfer) para protegerlo y enseñarle la profesión con todo lo que ello incluye.
via | Slashfilm
Tags